Dorothy and Harold Wahlstrom - Original Creators of D & H Ceramics
D & H Ceramics got it's start in 1968 as a hobby for Dorothy Wahlstrom. Dorothy was attending ceramic classes at the home of Mr. and Mrs. Legacy. During the time Dorothy was attending classes, Mr. Legacy had a fatal heart attack. Mrs. Legacy could not take care of both casting the greenware and giving classes. Harold Wahlstrom offered to do the casting of greenware. Because they could not get their schedules together, Harold offered to buy Mrs. Legacy's molds. He started pouring in his basement and sold her the greenware.
It did not take long for people in the ceramic industry to find out Harold was casting greeware in his home. People came from all over the area to purchase this greenware.
The Beginning of the Distributorships of Paint
Many of D & H's customers suggested taking on the well-known Jacquelyn Ceramic Arts stain line, thus, beginning the long list of distributorships they have since taken on. Next, they bought a distributorship from Reward. This consisted of a complete glaze line. Business started to really pick up. Since the business was in their home, there were no set business hours. People would come from 8:00 in the morning until 11:00 at night. These hours were not conducive to a good family life.
From Home to Store Front
It was at this time Dorothy and Harold decided to buy a store. They started out being open for business three days a week. It did not take long to find out they could not accomodate all of the people in that amount of time. They then established business hours of 9:00AM to 4:00 PM five days a week, which is close to the hours they currently have.
As time went on, they had many customers requesting products from the number one ceramic manufacturing company in the nation, Duncan Enterprises. Duncan is very selective in delegating distributorships. When Duncan awarded them the distributorship, Dorothy and Harold decided to sell another business they owned to obtain enough capital to make the purchase. With the Duncan line available, many new accounts were obtained. This was the turning point of their business. Certain ceramic items need assessories. At this time lamp parts, clock mechanisms, Christmas tree kits, bank plugs, sponges, and many other miscellaneous items were taken on.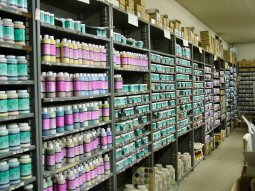 Ceramic Classes
Ceramic classes were started and taught by Dorothy in the basement of their store. Eventually their daughter, Claudia, took over the teaching of the classes. They are now held in the upstairs of this building. The casting of greenware was intensified because of the increase in demand by the public and the people in her ceramic classes.
Time to Add Clay to the Mix
About once a month Harold and Dorothy had to make a trip to Minneapolis with a truck and U-Haul to pick up liquid slip used in the casting of greenware. After a while, this became quite a chore for them and their supplier. Harold then started buying powered clay by the railroad boxcar. To accomodate this clay, a new warehouse was built in back of their store. This warehouse was also used to keep the extra inventory of glazes and stains.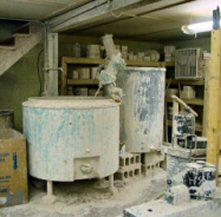 We Need Kilns
One of the basic ingredients in ceramics is clay and all clay has to be fired in a kiln. For this reason, Dorothy and Harold decided to take on the Paragon kiln distributorship.
Time to Expand Again
Business grew so rapidly that by 1974 they needed more floor space. Fortunately, the building next door to them went up for sale. They purchased it, remodeled it, and moved all the glazes, stains, and miscellaneous merchandise into this newly acquired building. The greenware for sale, the classes, and the casting area were kept in the old building.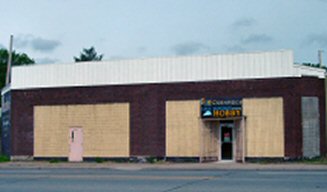 By 1975, there were a lot of new items available in the ceramic industry. One of these items, the casting table, made manufacturing greenware much easier. Also, the new 175-gallon mixing tanks enabled liquid slip to be made in large quantities. Straps were improved to keep molds from coming apart and spilling slip.
Throwing Clay on the Wheel
To broaden their product line they started to supply modeling clay and wheels. This type of clay is used in the school systems, camps in the area and potters. Some other products taken on at this time were china paints and decals.
Being an established ceramic distributor, many manufacturing companies started to contact Dorothy and Harold to ask them if they would be a supplier of their products. Subsequently, they carry three lines of kilns (Paragon, Skutt, and Cress), instead of one, and four companies brush products (Duncan, Mayco, Gordon, and Ceramichrome). At one time they ordered from approximately 12 major mold manufacturing companies throughout the nation. Many of these mold companies have gone out of business, but we still order from quite a few.
Seminars
In order to keep up with the newest techniques, Duncan established a seminar program. This is a factory represented program where certified teachers are made available to show the distributors and their dealers how Duncan's products are used. This program encouraged more people to become involved in ceramics.
Time for More Space - An Addition
All the new lines that were added needed additional floor space for display. Because of this and the fact that the greenware for sale was in a different building, they built on an addition. This enabled them to bring all the supplies and greenware for sale under one roof.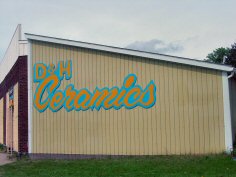 Porcelain Rounds Out the Business
In 1977, Dorothy and Harold decided to introduce porcelain products, which was basically new to the area. Porcelain is a much finer grade of ceramics. They started out with Bell Porcelain and have since added Seely Porcelain. Dorothy, Harold, and their oldest daughter, Claudia, learned how to make porcelain dolls and started pouring, cleaning, firing, and teaching others how to make their own porcelain doll. These classes are still being held approximately three times a year.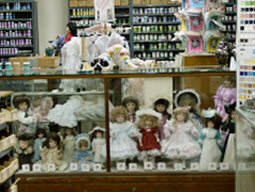 Ceramichrome and Mayco were their final major distributorships they added. These two companies have since combined to become Coloramics. They are the second largest manufacturer of ceramic products in the nation.
A New Bisque Room
A small area of the store was set aside for already cleaned and fired bisque pieces. In 2002, when a renter vacated a part of their building, a new room was created for bisque. This allows people that don't want to deal with the clay to paint ceramics without the mess and need for a kiln.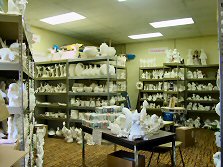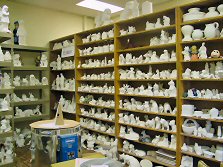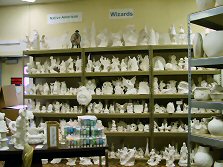 Family Run Business
This is definitely a family run business. All three of Dorothy and Harold's children worked in the business growing up. Dorothy's sister-in-law, Murt, worked there for many years. Harold's niece, Jackie, has worked there for many years and is still working there. Dorothy and Harold's oldest daughter, Claudia, teaches classes on Monday nights. Claudia's husband, Keith, supplies greenware for the shelves. Claudia and Keith's son, Brian, and daughter, Amanda,worked there through high school. Dorothy and Harold's granddaughter, Julianne, worked there through high school. Dorothy and Harold's grandson, Mike, currently pours greenware and mixes the clay.
Semi-Retirement for Dorothy and Harold
In December of 2000, Dorothy and Harold's second daughter, Nancy, started working closely with them to pass on knowledge of the business. In October of 2002, Nancy and her husband Mike, purchased the business from Dorothy and Harold. With all the hard work that Dorothy and Harold had put into getting this business started and keep it running over the years, they wanted to keep it operating.
Dorothy and Harold continue to work at "the shop", but in a smaller capacity. Dorothy works two and a half days a week and Harold still practically lives down there. He has found more time to devote to his greenhouse and model airplanes. Growing up, I never could understand why my dad was always down at the shop. Now that I'm running the place, I totally understand. You literally could live down there and never get everything done that needs to be done. But, that's ok. We're ready to make a go of it ourselves and hopefully we can serve our customers in the same great fashion my parents did.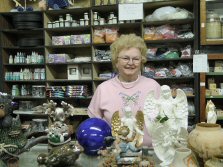 Next Frontier
As you can tell by bringing up this web site, the next frontier is the Internet. With all this history, knowledge and supplies, we decided to make it available to anyone interested in what we have to offer. Browse the site, make a purchase, or just send us a comment. We'd love to hear from you. Thanks for stopping by.
Nancy and Mike Nilsen